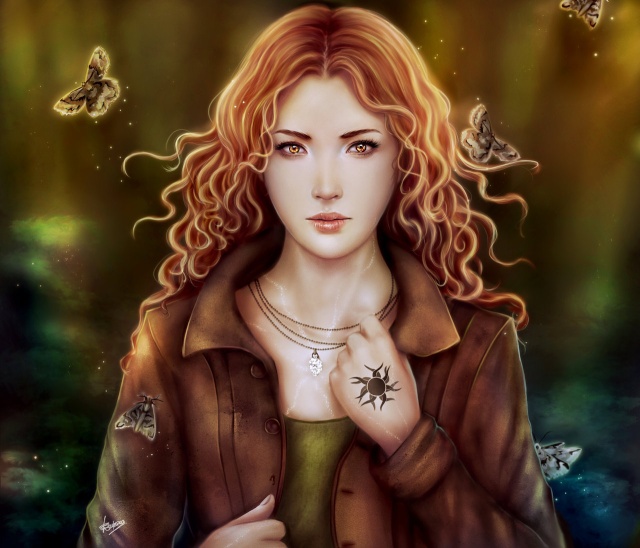 Blood covered the floor. Hand prints on walls and counters. A body lay in the middle of it all face down. A large kitchen knife tossed to the side. Furniture thrown around and knocked over. Picture frames busted and vases shattered. Blood and Tears covered a young woman.
•~•~•~•~•~•~•Several Hours Earlier •~•~•~•~•~•~•
Aela was bowed in front of a scary looking man. She was shaking uncontrollably from fear. Fear that she would be sent into agonizing torture. "Tara Johnson... come now... this is nothing new.", was all the man said before he twisted the cloth doll's arm, which held a remarkable resemblance of Aela herself, sending Aela in a swirling abyss of pain. Screams rendered through the silence of the deserted forest.
When Aela was released, she lay there gasping for air, "Yes..." Was all she managed to say. She let the pain subside to a dull ache before standing. She left him without another word, clutching her arm.
•~•~••~•~•~•~•~•~•~•~•~•~•~•~•~•~•~•~•~•~•
Tara Johnson was a defense attorney for serial killers and pedophiles. The worst kind of person was one that defended those that harmed others for their sick amusement. Aela was always sent to kill these evil people of the world. Though she never wanted to kill these people, there was not much of a choice in the matter if she wanted to live. The life she know led was not one of her choosing but she chose to live which meant others had to die. She had begun to come to the conclusion that she was killing those that deserved it. At least that was what she was telling herself.
Aela knocked on the door of the intended target, Tara Johnson. The woman answered and Aela lied to her. It was so easy to pass the lies over her lips. She told the woman that she was lost and needed to use the phone. Tara let her inside never once considering it would be her demise. As Aela pretended to use the phone she quickly scanned the surrounding area, making sure the woman was alone, and silently pulled out the switchblade that she hid in her jacket pocket.
When Tara trend her back on her, Aela made her move. She had enough experience now to know where to strike though her morality advised against it. Aela quickly grabbed the woman's head and moved the blade against the supple skin. "For your sins.", she whispered into the woman's ear before pushing the sharp blade into the woman's skin, cutting it like butter. Blood sprayed from the wound coating the floor and furniture in front of them. Aela let the body drop as it twitched with the last spasms of energy it had. The blood drained from the body with the few existing pumps of the heart and help with gravity.
Tara Johnson was no more.
To kill or be killed. Base survival skills against morality.
Aela cried at the sight of the woman's body laying in it own life force. Aela always cried after she killed someone, a living breathing person with emotions and memories, then went numb again. She was not a bad person. This was not her destiny. She was sure of it. She was forced to do these horrible things. She was just a normal girl who had chosen the wrong path home that fateful night. Why did she have to murder these people for this man's amusement. How could he control her so? She didn't want to take lives. It tore her up inside every time she did it. Yet, her natural instinct caused her to go into a kind of automated programming so she wouldn't get punished or die.
Aela started moving quickly, she grabbed the knife and stuffed it into a bag. Grabbing chemicals she poured it on the body and all over the house. She left through the front door before turning one last look as she threw a lit match inside. The house roared as if angry when the flames ran through the house. She wouldn't get caught for this because she had no connection to the lady and she was a missing person as well. No one would think a senior in high school was capable. She ran as fast and as hard as she could to get away from the deed she had done.
Aela opened the front door of the house in the forest, making a note that she would leave the second she got a chance to escape. She had to have that doll though... Had to take the power away from him. She made her way to his library. She knocked on the door before walking in, her head down and her eyes half closed. "It is done...", she spoke in a whisper, almost as if her voice was but a notion.
OOC: Need a male to play the Voodoo Master. He is a good guy but goes about things the wrong way like Voodoo. Quick to anger. Anything else up to you. At least 2 paragraph posts and creative to add ideas Smile I'm thinking she starts falling for him and either becomes twisted but good like he is or makes him realize his folly and stop killing. Let me know which one you would like to do.
My Charrie becomes twisted: The two go on a killing spree and have to run from the law but half the people believe them to be vigilantes of good. (The end would have to be decided)
Your Charrie gives up killing: my Charrie convinces yours that killing is horrible and makes him a bad person. He starts having a heart and because of loving her gives up the killing and releases her. She stays with him because of mutual love. (This would possibly be one that definitely has an ending.)