Name: Jazz Marinstaine
Gender: Male
Age: Unknown
Species: Vampire
Picture: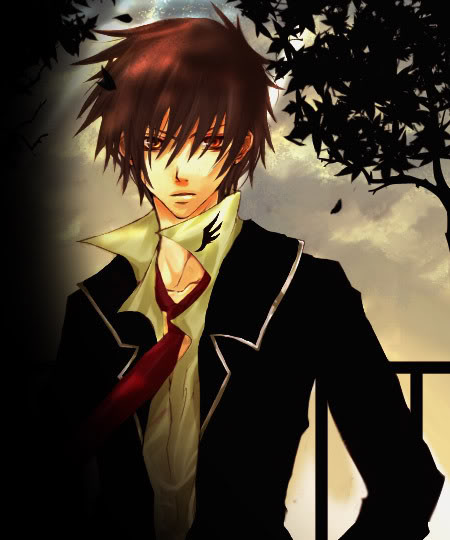 Personality: Jazz is a seemingly cold and distant individual. He never speaks unless someone asks him a question or if they speak to him directly. On rare occasions, he's speak for no apparent reason, but you better listen and heed his words whenever he does.
Likes: Quiet. A pleasant atmosphere.
Dislikes: Loud. High, negative emotions. 'Fake' people
Sexual Pref.: Straight
Special Powers: Animation, Astral Projection, Telekinesis.
Weapons: His power. His fangs. Super-strength. Super-speed.
History: Jazz was born into the highest vampire family, the Marinstaines. His father was a very powerful vampire and his mother was a high-born vampire from the Seriane clan. A war broke out when Jazz turned of age in the human sense, at eighteen years of age. His own clan and most of his mother's clan were wiped out. He wandered the lands, lost and seeming alone. Approximantely over a hundred years later, he found a girl that reminded him of his mother a lot. He soon found out that it was his missing paternal twin. Even since that fateful day, they have traveled from counrty to country, intergrating themselves into every-day society.
Name: Jeanne Marinstaine
Gender: Female
Age: Unknown
Species: Vampire
Picture:
Personality:  Jeanne is hyper, but not too much so. She is nice to people, that is, until they tick her off. She's loyal to her brother, and hates all that give him a hard time. Jeanne has been known to go crazy when
any
harm comes to her brother.
Likes: Chocolate. Hummingbirds. Roses
Dislikes: Jerks. Pimps. Overly hyper girls. Cheerleaders.
Sexual Pref.: Straight
Special Powers: Has the gift of singing. She can sing any type of music she wants to. Her voice draws people in, and when she turns on the full effects, she can make that person want to do things for her
Weapons: Voice. Super strength. Super speed
History: At birth, Jeanne's parents, fearing that their seperate clans might get a bit jealous of the fact that they had twins, sent Jeanne away into the mountains with a trusted advisor's of her fathers, to live with his family. For years, she lived with the Cartell family in the Carpathian Mountains, believeing that she was their daughter. On her eighteenth birthday, when the Cartell's heard of the rebellion and the destruction of Jeanne's family, they sent her away, making sure that no one would ever be able to find her. A hundred years later, she met her paternal twin Jazz Marinstaine, and has not left his side since.